Learn how to Protect our Oceans
Published on 28/04/2023
The public is invited on May 6th and 7th, from 9:00 am to 12:00 pm and from 3:00 pm to 6:00 pm, to the Marina Fort-Louis in Marigot, to enjoy this (free) event. They will also have the opportunity to discover the sailboat 'Expédition 7ème Continent'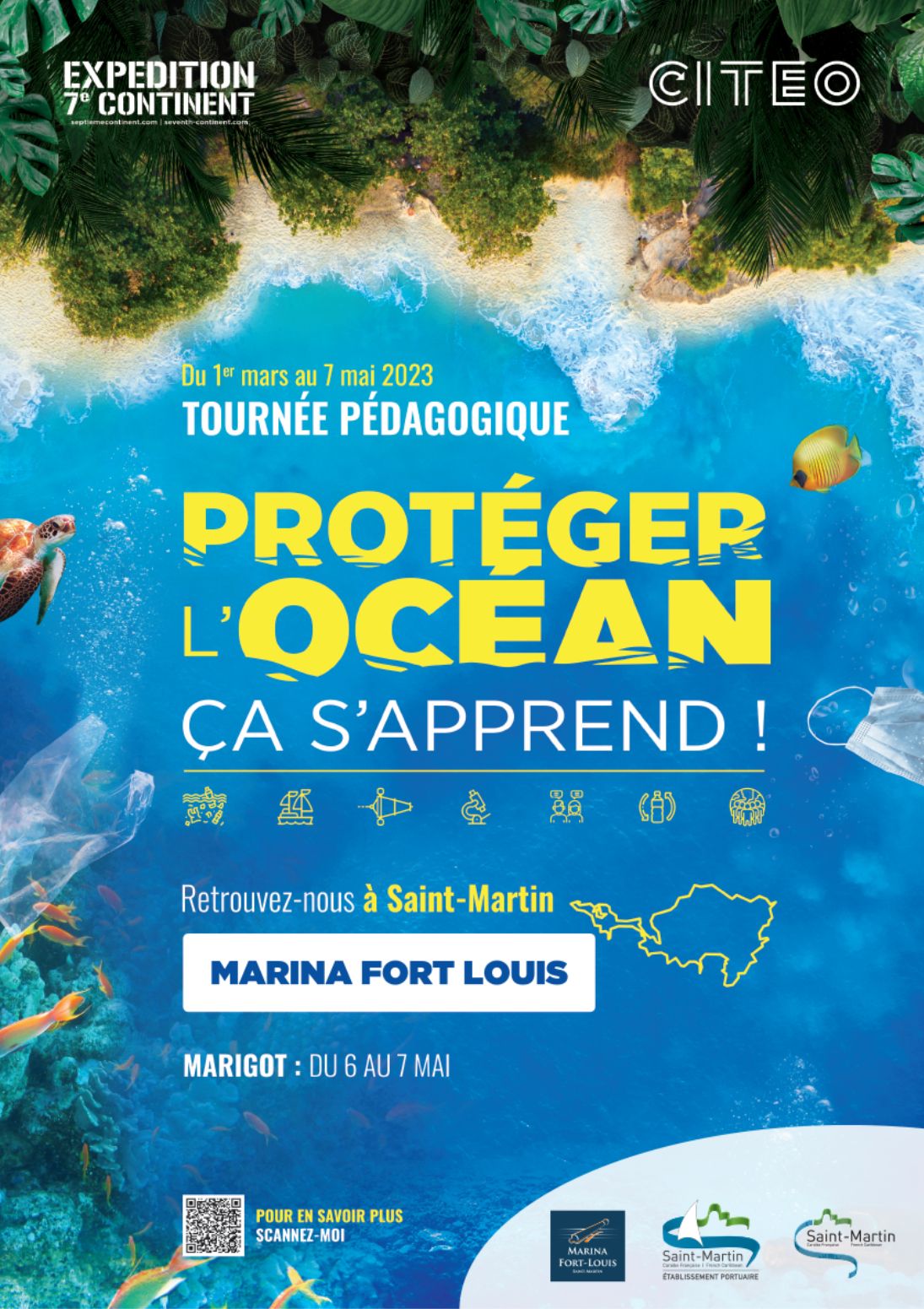 After Guadeloupe, explorer Patrick Deixonne and his crew set course for Saint-Martin, where they will be present at the Marina Fort-Louis on May 6th and 7th, 2023, to welcome the public as part of the educational tour 'Learn how to Protect our Oceans', organized by the non-profit organization
Expédition 7ème Continent
and
CITEO
. The Collectivity of Saint-Martin is participating in this event and invites everyone to come and discover the educational workshops and visit the schooner.
This is the 6th educational tour and the first edition in the French West Indies. Launched on March 1st, the crew has made stops in Guyana, Martinique, and Guadeloupe, and will be in Saint-Martin on May 6th and 7th, 2023.
The organizers wanted to include Saint-Martin in this itinerant exhibition project aboard a 26-meter oceanographic schooner, which will be docked at the marina for 3 nights. The aim is to raise awareness among young people and the general public about the scourge of plastic waste and to educate on the importance of sorting waste, to curb marine pollution.
The Expédition 7ème Continent non-profit will offer information stands and give visitors the opportunity to observe microplastic particles recovered during expeditions through a microscope, to help understand the problem of microplastic pollution in our oceans. Interactive workshops on waste sorting and recycling will be available to the public, using tools and programs developed by the non-profit CITEO.
The Collectivity and its Environmental Department will also participate on Saturday, May 6th, from 9:00 am to 12:00 pm and from 3:00 pm to 6:00 pm, to inform visitors about local recycling facilities and waste management improvement projects. Visitors will be able to participate in fun educational activities, such as quizzes, waste sorting demonstrations, and distribution of memory aids.
Improving waste management is an important issue for the island and its maritime domain: the Collectivity and the Port Authority of Saint-Martin, who operates the Marina Fort-Louis, are both committed to supporting this initiative through a partnership with the non-profit organization.
→ More info
Associated Files: